The Mid-States Poker Tour (MSPT) is heading to Michigan's FireKeepers Casino for the second time this year for the MSPT Michigan State Poker Championship, which will feature the $1,110 Main Event with a massive $1 million guarantee.
The MSPT Michigan State Poker Championship, set to run Oct. 13-16, willl also feature a handful of satellites into the Main Event, giving players a chance to spin up $70 or $265 into a seat.
Read about Ken Baime winning his second title in the MSPT US Poker Championship!
$1 Million Guaranteed
The $1 million guaranteed Main Event will feature three starting flights, the first of which will kick off on Oct. 13, while the next two flights will play out the following two days.
In exchange for their $1,110 buy-in, players will receive a starting stack of 25,000 chips.
Day 2 of the Main Event will take place on Oct. 16 and will play down to a winner, who will take home the trophy and the lion's share of the $1 million guaranteed prize pool.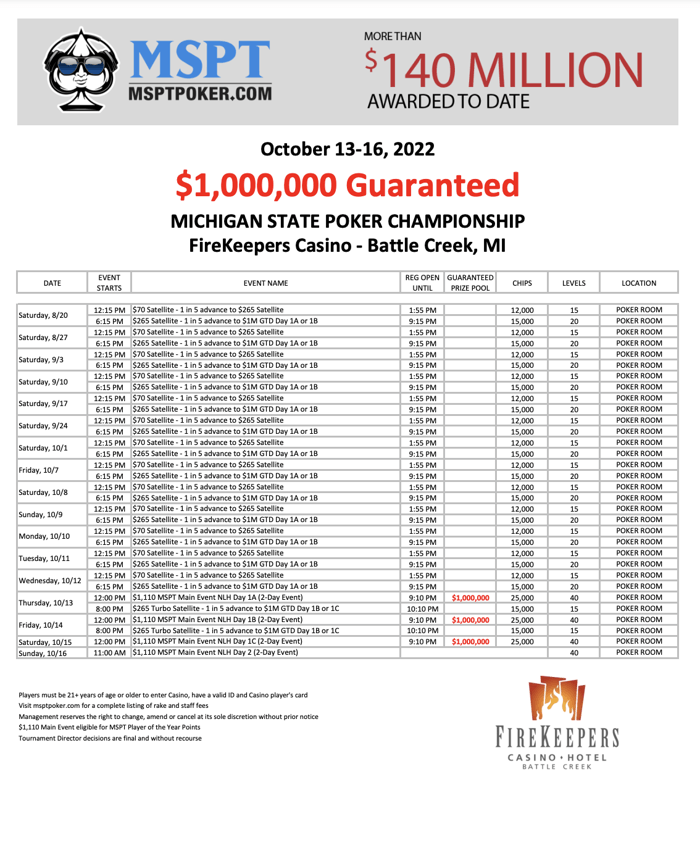 For those who don't want to put up the $1,110 buy-in, there will be a handful of satellite opportunities.
Players can either play a $70 satellite where one in five players advances to the $265 satellite, or they can buy directly into the $265 satellite, which also awards seats to one in five players.
Previous Winner
When the MSPT was last at FireKeepers Casino in May, it was Dan Bekavac who took down the $1,110 Main Event to win his fourth MSPT title. Bekavac secured the fourth title after a three-handed deal with CJ Peake (2nd – $241,290) and Marquez Davis (3rd – $198,975).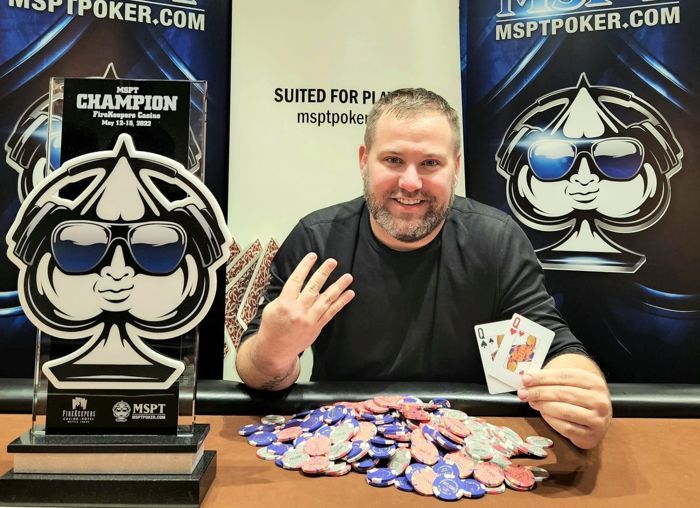 Others who went deep in the event include poker commentator Jamie Kerstetter, Chris Tryba and 2009 World Series of Poker (WSOP) Main Event champion Joe Cada.
The event attracted 2,330 runners to generate a massive prize pool of $2.3 million, so don't be surprised if the upcoming event surpasses the $1 million guarantee.
2022 MSPT FireKeepers Final Table Results
| Place | Player | Payout |
| --- | --- | --- |
| 1st | Dan Bekavac | $252,090* |
| 2nd | CJ Peake | $241,290* |
| 3rd | Marquez Davis | $198,975* |
| 4th | Zinoviy Pelekh | $119,706 |
| 5th | Jonathan Johnson | $91,699 |
| 6th | Alex Oberlin | $72,275 |
| 7th | Timothy Mulroy | $56,465 |
| 8th | Ruben Delgado | $44,043 |
| 9th | Elliot Hebden | $35,008 |
*Denotes three-handed deal.
PokerNews will be on-site at Firekeepers Casino to report on the Main Event, so stay tuned for that coverage. After the Michigan stop, MSPT will head to South Dakota for the MSPT Deadwood Shootout, featuring a $1,110 Main Event with a $100,000 guarantee Oct. 21-23.
The full schedule for the upcoming MSPT Michigan State Poker Championship is available in the table below.
Check out the MSPT Hub on PokerNews here!
MSPT Michigan State Poker Championship Schedule
|   | DATE | TIME | EVENT |
| --- | --- | --- | --- |
|   |   |   |   |
|   | Saturday, 8/20 | 12:15 PM | $70 Satellite – 1 in 5 advance to $265 Satellite |
|   |   | 6:15 PM | $265 Satellite – 1 in 5 advance to $1M GTD Day 1A or 1B |
|   | Saturday, 8/27 | 12:15 PM | $70 Satellite – 1 in 5 advance to $265 Satellite |
|   |   | 6:15 PM | $265 Satellite – 1 in 5 advance to $1M GTD Day 1A or 1B |
|   | Saturday, 9/3 | 12:15 PM | $70 Satellite – 1 in 5 advance to $265 Satellite |
|   |   | 6:15 PM | $265 Satellite – 1 in 5 advance to $1M GTD Day 1A or 1B |
|   | Saturday, 9/10 | 12:15 PM | $70 Satellite – 1 in 5 advance to $265 Satellite |
|   |   | 6:15 PM | $265 Satellite – 1 in 5 advance to $1M GTD Day 1A or 1B |
|   | Saturday, 9/17 | 12:15 PM | $70 Satellite – 1 in 5 advance to $265 Satellite |
|   |   | 6:15 PM | $265 Satellite – 1 in 5 advance to $1M GTD Day 1A or 1B |
|   | Saturday, 9/24 | 12:15 PM | $70 Satellite – 1 in 5 advance to $265 Satellite |
|   |   | 6:15 PM | $265 Satellite – 1 in 5 advance to $1M GTD Day 1A or 1B |
|   | Saturday, 10/1 | 12:15 PM | $70 Satellite – 1 in 5 advance to $265 Satellite |
|   |   | 6:15 PM | $265 Satellite – 1 in 5 advance to $1M GTD Day 1A or 1B |
|   | Friday, 10/7 | 12:15 PM | $70 Satellite – 1 in 5 advance to $265 Satellite |
|   |   | 6:15 PM | $265 Satellite – 1 in 5 advance to $1M GTD Day 1A or 1B |
|   | Saturday, 10/8 | 12:15 PM | $70 Satellite – 1 in 5 advance to $265 Satellite |
|   |   | 6:15 PM | $265 Satellite – 1 in 5 advance to $1M GTD Day 1A or 1B |
|   | Sunday, 10/9 | 12:15 PM | $70 Satellite – 1 in 5 advance to $265 Satellite |
|   |   | 6:15 PM | $265 Satellite – 1 in 5 advance to $1M GTD Day 1A or 1B |
|   | Monday, 10/10 | 12:15 PM | $70 Satellite – 1 in 5 advance to $265 Satellite |
|   |   | 6:15 PM | $265 Satellite – 1 in 5 advance to $1M GTD Day 1A or 1B |
|   | Tuesday, 10/11 | 12:15 PM | $70 Satellite – 1 in 5 advance to $265 Satellite |
|   |   | 6:15 PM | $265 Satellite – 1 in 5 advance to $1M GTD Day 1A or 1B |
|   | Wednesday, 10/12 | 12:15 PM | $70 Satellite – 1 in 5 advance to $265 Satellite |
|   |   | 6:15 PM | $265 Satellite – 1 in 5 advance to $1M GTD Day 1A or 1B |
|   | Thursday, 10/13 | 12:00 PM | $1,110 MSPT Main Event NLH Day 1A (2-Day Event) |
|   |   | 8:00 PM | $265 Turbo Satellite – 1 in 5 advance to $1M GTD Day 1B or 1C |
|   | Friday, 10/14 | 12:00 PM | $1,110 MSPT Main Event NLH Day 1B (2-Day Event) |
|   |   | 8:00 PM | $265 Turbo Satellite – 1 in 5 advance to $1M GTD Day 1B or 1C |
|   | Saturday, 10/15 | 12:00 PM | $1,110 MSPT Main Event NLH Day 1C (2-Day Event) |
|   | Sunday, 10/16 | 11:00 AM | $1,110 MSPT Main Event NLH Day 2 (2-Day Event) |
Past MSPT Michigan State Poker Championship Winners
|   | DATE | ENTRANTS | PRIZE POOL | WINNER | PRIZE (IN USD) |
| --- | --- | --- | --- | --- | --- |
|   | Oct. 2019 | 1,615 | $1,565,066 | Bobby Noel | $262,145 |
|   | Oct. 2018 | 1,271 | $1,231,370 | Matthew Stammen | $218,565 |
|   | Oct. 2017 | 1,067 | $1,033,490 | Chris Meyers | $191,196 |
|   | Oct. 2016 | 844 | $855,980 | Brett Blackwood | $188,314 |
|   | Oct. 2015 | 559 | $540,730 | Michael Ferrarotti | $134,642 |
|   | Oct. 2014 | 517 | $499,990 | Ryan Dykhouse | $124,500 |
|   | Aug. 2013 | 301 | $300,100 | Jordan Townsend | $76,975 |