Harrah's is in the news for two big reasons: The Strip casino has a new high limit room and Pete "Big Elvis" Vallee just got a two-year contract extension.
Our friend Big Elvis has been performing in Las Vegas since the Clinton administration, and the larger-than-life tribute artists continues to offer one of the best free shows in town. (There's two drink minimum. Like that's a problem for you.)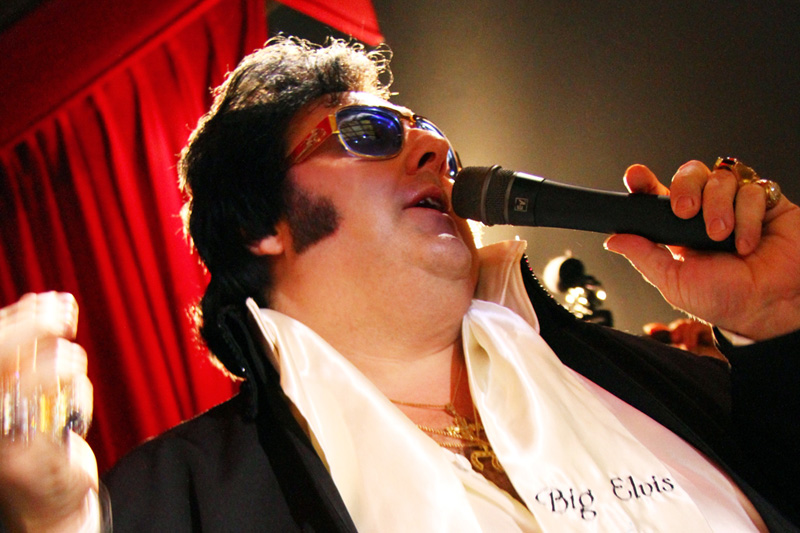 Vallee's run at Barbary Coast and later Bill's Gamblin' Hall (what is now Cromwell) was the stuff of Las Vegas legend, and he's thrived in the Harrah's piano bar amphitheater.
It's not really called that, probably, but you know where it is.
Big Elvis performs Monday, Wednesday and Fridays at 2:00 p.m., 3:30 p.m. and 5:00 p.m.
Vallee does a spot-on Elvis, and if you close your eyes, you'll feel like you're in the presence of The King, just without the karate kicks and barbiturates. Hey, don't shoot the messenger.
In other Harrah's news, the resort recently opened a new high limit room.
Here's a quick look from our friend and man-about-town, @JamesinLasVegas.
Harrah's new high limit room is sparkly. (h/t @JamesInLasVegas) pic.twitter.com/hY8kAC5StA

— Vital Vegas (@VitalVegas) January 16, 2023
The new high limit room is near the sportsbook and keno area.
As we've shared, the former high limit room will become a lounge called (wait for it) The Lounge. Because naming things is hard.
Rumors of a lounge going into the former high limit slot room at Harrah's is confirmed. Also, naming things is hard. Archive: https://t.co/daNMH6p7Mu (h/t @JamesInLasVegas) pic.twitter.com/rNrHdjAn9o

— Vital Vegas (@VitalVegas) October 26, 2022
Harrah's is still alive and kicking. The old-timey Mardi Gras theme (including creepy jesters and such) has been largely taken away, and the resort has pivoted toward catering to conventioneers thanks to its location next to the Caesars Forum convention center.
Harrah's is a great time, and continues to host Donny Osmond, Tape Face, "X Country" and "Menopause the Musical," in addition to Big Elvis.
New to the resort are the reliably forgettable Bobby's Burgers by Bobby Flay and Ramsay's Kitchen, which we haven't tried yet, in the former buffet space. Yes, we broke the news Gordon Ramsay was getting a restaurant at Harrah's eight months before it was officially announced. That's how we roll.
Congrats to our buddy Pete Vallee for his continued success at Harrah's, and let us know if you hit anything good in high limit.