Bad Kissingen Casino's History – From Private to Public
The Bad Kissingen Casino has an interesting history, as it was initially also a bathhouse similar to the Kurhaus Wiesbaden casino. While it offered games, such as roulette and hazard, in the 19th century, it was eventually shut down as King Max II outlawed all gambling across the state. It would take a full century for gambling to return in Germany.
| | |
| --- | --- |
| 📛 Name | Casino Bad Kissingen (formerly Luitpold Casino) |
| 📅 Founded | 1871 |
| 📍 Location | Luitpold Park 1, Bad Kissingen, Germany |
| 🕹️ Game Types | Roulette, Blackjack, Dice52, Slots, Poker |
| 🎭 Amenities | La Canchanchara restaurant, Comedy Royal stage |
| 📧 Email | bad.kissingen@spielbanken-bayern.de |
| 💻 Website | www.spielbanken-bayern.de/spielbanken/bad-kissingen |
On the 21st of April 1955, casinos could once again receive licences and operate in Bavaria. However, this decision was met with controversy that was only resolved when the government nationalised the casino in 1965.
These days, the Casino Bad Kissingen in Germany is owned by Spielbanke Bayern, a public company of the State Lottery and Casino Administration in Bavaria. As such, you can be confident they are entirely legal and safe for players from Bavaria, similar to the best Bavarian online casinos.
These days the casino has expanded to include a great Cuban-themed restaurant with a stage for live music and other special events. You can join casino events with your ticket and play various games. Note that you must be 21 years or older to play, and you should mind the dress code.
List of Games at the Casino Bad Kissingen in Germany
Bad Kissingen Casino's Fascinating Electronic Games
The slots and electronic tables are the most popular among the many excellent Bad Kissingen Casino games. Players can play more than 80 slots ranging from classic machines to video slots rivalling the games at the best German slot casinos. The games can be played for as low as €0.50, making them ideal for low rollers.
Interesting fact:
The famous Bayern Jackpot, which can be played across all Bayern Casinos, has been around since 1997. The current record for the biggest prize was €980,000 at the Bad Fussing Casino.
While casual players can try video slots with fun features and graphics, high rollers can also try the various fixed and progressive jackpots. For example, the Bayern Jackpot is a progressive jackpot with four connected slots so that you can compete with players from all over Germany. Alternatively, the local progressive jackpot can be won through one of five connected games, with prizes beyond €20,000.
Those who want something different can also play video poker games or try electronic tables. For example, you can play an electronic game of classic roulette or connect to one of the live dealer tables. Even fans of bingo games can have fun with these e-tables, so players can be certain there is no shortage of varied experiences.
The Bad Kissingen Table Games
Aside from the Casino Bad Kissingen restaurant, players can also relax with some table games rivalling the games at the top online blackjack casinos in Germany. The blackjack tables are played with several decks, allowing players to sit at the table or bet behind other players with stakes between €5 and €500. Aside from classic functions, such as doubling and splitting, players can place insurance and play various side bets.
The roulette selection features French and American roulette, which can also be accessed through the electronic tables, with bet limits from €1 to €12,000. Experienced players can utilise the full range of betting options to form strategies. Newcomers can even attend demo games or special events where dealers explain how the games work.
Bad Kissingen Casino's Unique Dice Game
Casino Bad Kissingen also features a unique game called Dice52. Similar to the games at the best German live online casinos, you place a €5 mandatory bet at the start and a bet on one of the red squares marked with odds. The goal is to reach those squares and get the equivalent payout, while the €5 chip acts as a game piece. You do this by rolling two dice and getting any number except seven.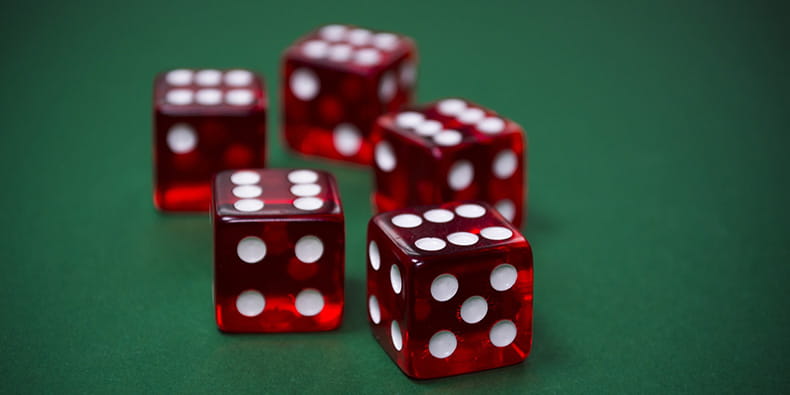 Players and standing players can also bet on side games, one with black fields (where you bet after every roll) and one with white fields (where you bet at the start of the round). You can predict the dice result, bet on the shooter getting a seven, etc. Lastly, if the shooter makes it to the end, they can earn a decent shooter bonus of €5000.
This game is interesting because everyone can win while only one person rolls the dice. As soon as the chips reach the squares with odds, everyone who bets on it wins. That allows all players to share in the excitement of a long streak.
Poker Games and Tournaments at Bad Kissingen Casino
Fans of poker games can also play a game at any time, whether against other players or a dealer. Unique Bavarian Texas Hold'em is a casino poker game similar to the ones at the best German poker sites. You receive two cards and must use the community cards to beat the dealer's hand. There is also a side bet for getting a specific combination of hole cards.
Interesting fact:
The exact origins of poker are unclear. It is believed that one of its influences is the 19th-century French game Poque. Its name likely comes from the Irish word for pocket or the German word for bragging as a bluff.
Those looking for a more traditional experience can try the Texas Hold 'em cash games. Up to ten players can participate, each being dealt two cards, and they must form a hand using the hole cards and the community cards. After several betting rounds (the flop, turn and river), all remaining players have a showdown. The Bad Kissingen Casino also features detailed rule explanations on its website.
Finally, players at the Casino Bad Kissingen in Germany can also participate in various tournaments. Many of these feature unique additional rules, such as Crazy Pineapple, where players receive three hole cards and must discard one before the turn card. Tournaments are announced in advance, so players can sign up and try a thrilling game against other experienced players.
Amenities and Events at the Bad Kissingen Casino
You can visit the Casino Bad Kissingen restaurant whenever you wish to take a break from the exciting games. La Canchanchara features a fantastic Cuban theme, with stylish decorations, and provides an excellent selection of drinks and food for a relaxing experience. It is open from Wednesday to Sunday, and you can visit special live events.
Interesting fact:
While the restaurant is always open, the casino is closed on certain holidays, such as Christmas Eve, All Saints' Day, Good Friday, etc. A detailed schedule of their holidays can be found on their website.
The Comedy Royal stage is part of the restaurant and hosts various live shows, such as comedy shows, music performances and more. Stage parts are added, and the restaurant's seating is rearranged to immerse visitors further as they enjoy the show. New events are scheduled regularly, so it's always a good idea to check the Bad Kissingen Casino program in advance for what's available.
Finally, you can find plenty of other special events at the casino throughout the year. That includes Christmas events, New Year's parties and promotions for regular customers that match the top online casino bonuses in Germany. You can even participate in demo games at the casino, get birthday bonuses, or watch your favourite sports matches. There are plenty of entertainment opportunities at the Casino Bad Kissingen in Germany.
Casino Bad Kissingen Conclusion
Overall, the Casino Bad Kissingen is an excellent place for all types of players. You can find various games ranging from casual slots to exciting table games. There are also unique titles and plenty of poker tournaments for experienced players seeking something completely different. The restaurant and live stage are also excellent, allowing visitors to relax with a live performance and a good meal.
As the government owns this casino, you can be sure it follows all the gambling laws in Germany strictly. The quality of the games can impress even the most experienced players and equals the top online casinos in Germany.
Casino Bad Kissingen FAQ
Before we finish our Casino Bad Kissingen review, we will answer all your pressing questions regarding this land-based establishment. You can learn more about its history, game selection, and other unique titles. We will also briefly cover the casino's other amenities and special events, such as the casino demo games.
Source link